CACC
Welcome to the CACC!
CACC Host Project Based Learning Training for Area Educators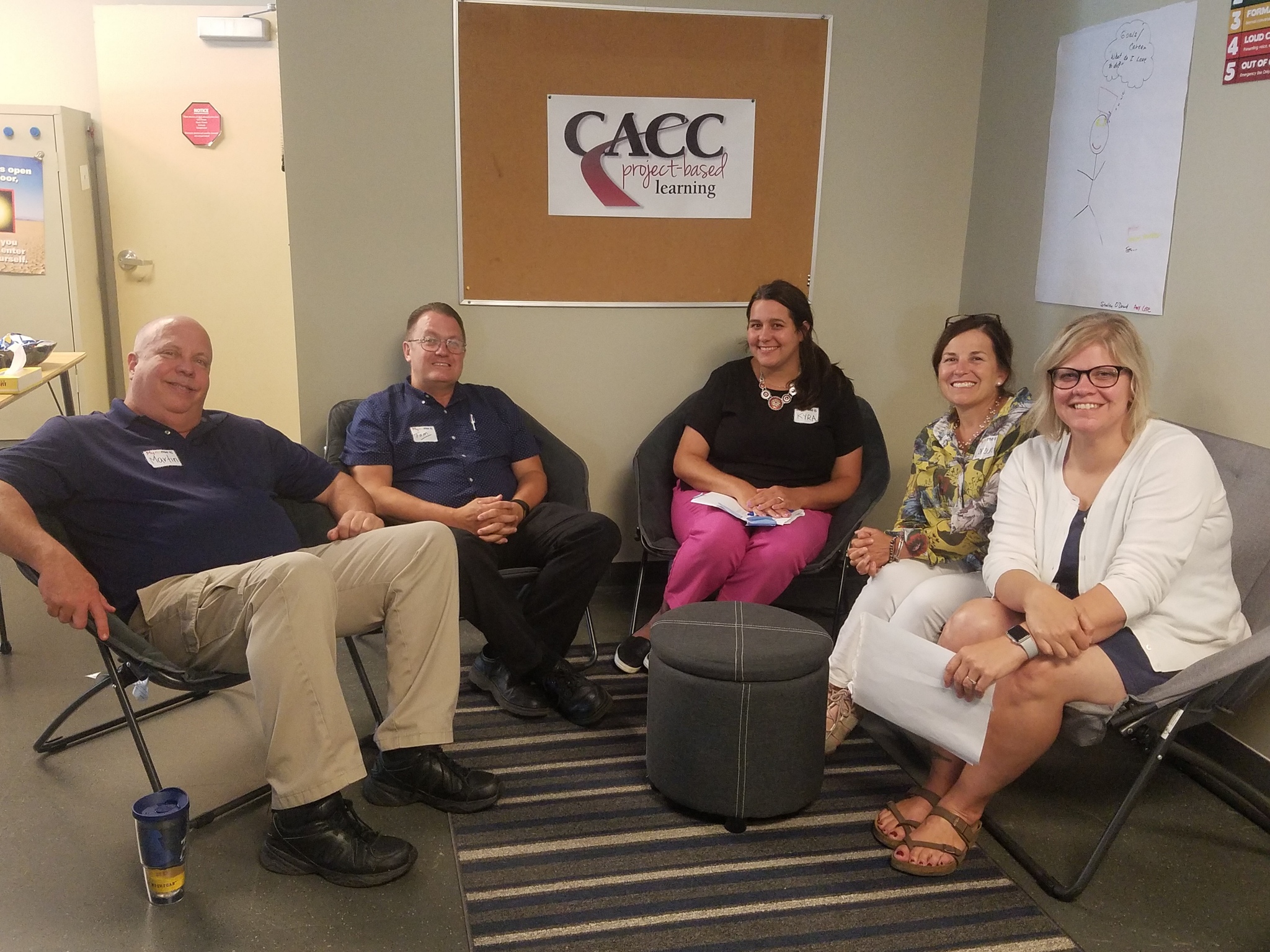 During the 2018-19 school year many of the programs at the Calhoun Area Career Center (CACC) formally introduced Project Based Learning (PBL) into their programs. Instructors from four of the program's were selected to serve on the CACC's PBL Leadership Team.
After attending additional training this summer, led by the Buck's Institute for Education, CACC's PBL leadership team shared their experiences and knowledge by hosting a summer workshop for area educators, sponsored by the MiSTEM Southwest Region.
"In Project Based Learning, students work on an extended project that engages them in addressing a real-world problem or answering a complex question," according to the Getting Started with Project Based Learning materials released by the ASCD, author John Larmer, editor in chief at the Buck Institute for Education. "Students demonstrate their knowledge and skills by developing a product or presentation, which they make public to people beyond the classroom. As a result, they develop deep content knowledge as well as 21st century success skills. PBL unleashes a contagious, creative energy among students and teachers."
The CACC's PBL leadership team is comprised of instructors representing a wide array of programs including: Heidi LaGrow, Graphic Communications Technology; Tom Lowe, Automotive Service Technology; Martin Brown, Law Enforcement; Kyra Rabbitt, Education Academy and the CACC assistant principal, Coreen McCaul, a former teaching coach.
CACC has seen proven success in this method of teaching with positive feedback from both students and staff. During the 2018-19 school year Law Enforcement students created the ideal police department, Graphic Communications Students developed campaigns to attract businesses to downtown Battle Creek, Education Academy students explored barriers to learning that they or someone they know have experienced, and Automotive Service Technology students developed a holiday expo to increase awareness of the skills learned in their program.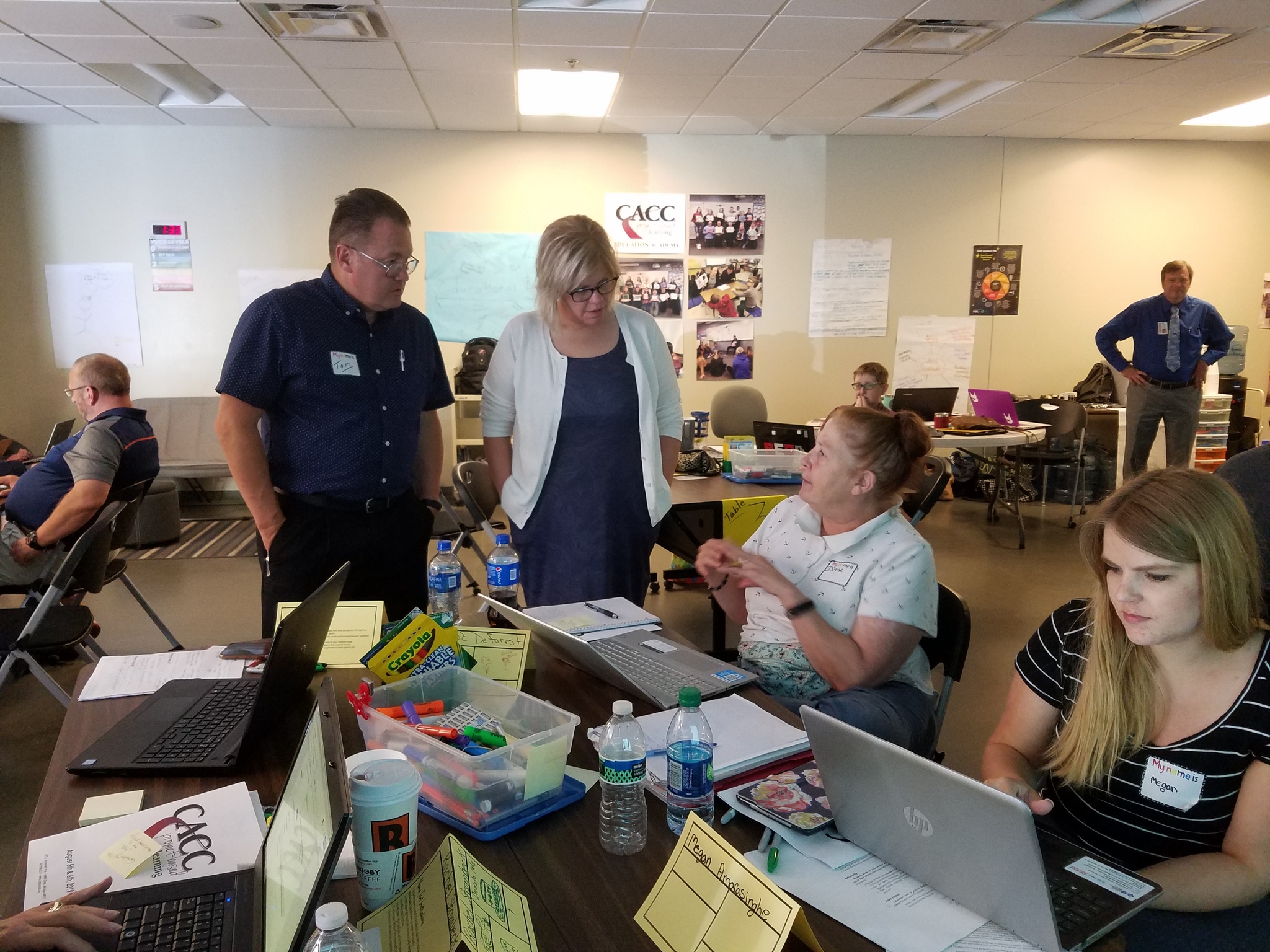 The difference between Project Based Learning and the traditional classroom is that PBL is student led. Instead of teachers standing up and lecturing content to students to memorize, the teachers lead them in a process where the students are encouraged to gather and interpret information.
During the two-day workshop, attended by K-12 educators from Calhoun, Branch, Kalamazoo and St. Joseph Counties, each of the CACC instructors shared experiences from their projects along with their plans for incorporating PBL in their classroom instruction moving forward.
Throughout the workshop attendees were given work-time and support in the process of creating a project idea for use in their classroom, providing and receiving input on each others projects and the value of collaboration.
The attendees favorite part of the training, according to survey results included:
"The work time! So great to be able to have the time to fully plan out a new project."
"The modeling. We LIVED PBL. Moving, talking, doing. Great fun. The days went by quickly."
"Step by step instruction with examples from each instructor."
"Creating the PBL project and getting feedback/ideas on how to improve or suggestions! I feel much more comfortable implementing PBL in my classroom and am excited to do this project."
Beginning with the 2019-2020 school year, PBL will be incorporated into the CACC's School Improvement Goals. If you would like to learn more about PBL please contact Tim Staffen, Assistant Superintendent of Regional Career and Technical Education at staffenT@calhounisd.org or by calling 269-968-2271 ext. 2431.
Tom Lowe Receives MI ACTE Teacher of the Year Award
Mr. Tom Lowe, Automotive Service Technology instructor, was recognized with the Teacher of the Year Award by the Michigan Association of Career and Technical Education (MI ACTE) at the Michigan Career Education Conference in Grand Rapids.
According to the awards program, the ACTE Teacher of the Year Award recognized the finest Career and Technical Education (CTE) teachers at the secondary school level who have demonstrated innovation in the classroom, commitment to their students and dedication to the improvement of CTE in their institutions and communities.
Free To Be Pre School
Apply for the Free To Be Pre School OR Visit our Blog
News and Resources
Listen to Paul Galbenski, the 2011-12 Michigan Teacher of the Year, share his passion for career and technical education.
AM Session
7:45 am - 10:30 am
PM Session
11:50 am - 2:35 pm
Contact Us
475 E. Roosevelt Ave.
Battle Creek, MI, 49017
269.968.2271
Fax: 269.968.4344
Attendance Line
269.968.2271 ext. 5402
---
Edgenuity (e2020)
Contact:
269.968.2271 x5213
Enrollment Request Form (e2020)
Contact:
269.968.2271 x5269